The NSCF is expanding its operations in Broward County, Florida by hiring teacher-mentors to assist some of many teachers who have taken the Demystifying Chess Workshops and are offering chess in the classroom, in after-school and in community programs. Our first hire is a veteran math teacher who has had great success introducing children to chess, especially in high-need communities.
Robert McKenzie was born and raised in South Florida and is a product of Broward County Public Schools. He graduated from Boyd Anderson High (Lauderdale Lakes, FL) in 1990 where he was a stand-out basketball player. He did not get into chess until years later in college at the suggestion of his older brother. His brother had picked up the game on road trips while playing in the NFL. Robert's drive to finally beat his brother at something drove him to read a book on chess so he could improve and he soon accomplished his goal, then went on to play in local tournaments and continue his personal chess education.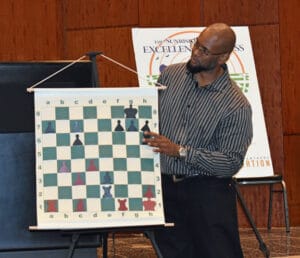 Upon graduating college, Robert began his teaching career at Castle Hill Elementary School in Lauderhill, Florida as a second grade teacher. He started teaching chess to the many boys that would come to his door to see, at that time, the only male teacher in the school. He was soon teaching boys from 2nd through 5th grades along with some girls. Though a Title I school with little funding for his extracurricular endeavor, Robert was able to develop a chess club that thrived with as many as 20 children coming regularly and influencing hundreds more by the presence of a chess club at their school and the pride that engenders. His philosophy for chess is to use the game as a vehicle to help young people develop a framework for higher thinking so they can make better decisions in life and school. The first team he trained, a group of three boys from Castle Hill, won 1st place at a regional tournament to the surprise of Mr. McKenzie and he says this gave him true hope that these children could indeed accomplish anything they set their minds to.
After earning his Master's degree in Math Education from Nova Southeastern University, Robert became the Math Specialist and began teaching the whole school chess through his innovative math special. Castle Hill received its first school grade of B during this time. In 2014, after 17 years of teaching chess to boys and girls at his elementary school and now back in the classroom, Mr. McKenzie embarked on his most successful year as a chess coach in a small portable classroom with limited resources. He trained a small team of 8 boys and girls and won a number of prestigious local tournaments as a team and individually. But his most audacious move on the chessboard was yet to come. He felt he had the strongest girl players of their age in the country. He approached his principal with the idea of taking a girls team to a national competition, The National All-Girls Championship which was to be held in Chicago; she was supportive as were the girls' parents. Mr. McKenzie was able to maneuver the pieces into place for his girls to compete. In their most challenging battle to date, and facing competition from all over the country, his team placed 2nd in the nation. Winning this was a great accomplishment for a small Title 1 school. His team received a proclamation from the Honorable Mayor Richard Kaplan of Lauderhill and several stories appeared in the media locally and nationally.
Robert is currently teaching intensive math at Lauderdale Lakes Middle School in Lauderdale Lakes, Florida. He continues to teach chess and share his vision for the game. This year, he has been teaching chess to over 180 students in his Friday classes as well as running an after-school chess club.
Robert McKenzie holds a B.S. in Elementary Education from Bethune-Cookman University and a M.S. in Math Education from Nova Southeastern University. He is a Certified Chess Coach and Tournament Director of the United States Chess Federation and Certified Senior Instructor of the National Scholastic Chess Foundation.
Update: In May 2023, US Chess featured a story about Robert. Scroll down on Faces of US Chess.